Sai Ngam Banyan Tree Grove
Posted November 16, 2021 by

Jan
Sai Ngam
Nakhon Ratchasima
Thailand
November 16, 2021
Seventeen years ago, when I made my first trip to

the northeast of Thailand

, I visited Sai Ngam, purported to be the largest and possibly the oldest banyan tree in Thailand.
I wandered into and through and under and around this 1350 square meters (1615 square yards), 350 year old tree. A series of dirt and brick paths meander beneath the trees and the grove is surrounded by water.
That was then. 2004.
This year 2021 torrential rains have flooded the area. Jenjira and I walked to the periphery of the grove but deep water prevented us from "meandering."
Apparently, because of the reproduction mechanism of the banyan tree, with its myriad of interconnecting roots and trunks and branches, Sai Ngam is just one tree!
THAILAND'S LARGEST BANYAN TREE GROVE
The Sai Ngam banyan tree grove is one of Thailand's spookier attractions. It feels like the setting for a twisted horror film where the trees come alive and strangle unsuspecting passersby, and locals believe that potent terrestrial spirits dwell here. For photographers, or anyone who appreciates the eerie, Sai Ngam makes a visit to Phimai even more worthwhile.
Banyan trees germinate their seeds within crevices on the very tree from which the seeds came, and after a while, no individual trees can be discerned. Instead, an inseparable, interwoven grove of trunks and branches takes shape, making it nearly impossible to decipher which branches belong to which trunks.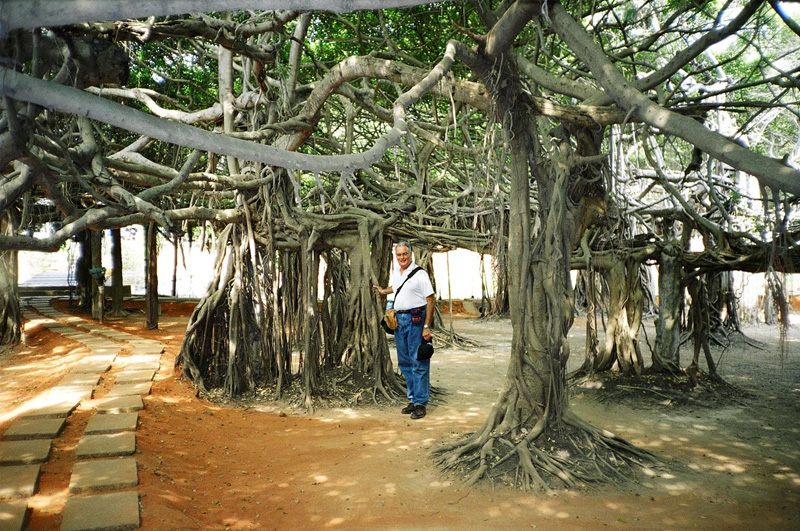 Sai Ngam is supposedly the largest of these banyan groves in Thailand, spanning an area of some 1,350 square meters. A series of dirt and brick paths meander beneath coiling branches that reflect in calm ponds and moats on all sides. Many Thais believe that banyans are occupied by female spirits, and locals regularly offer incense sticks and colorful streams of flower garland to a spirit house near Sai Ngam's original 350-year-old trunk. The mystique was deepened when Queen Saovabha paid a visit in 1911.
Eerie shadows are cast as sunlight filters through the trees on clear days and breaks in the trees can feel like portals to frightening, other-worldly dimensions when it's cloudy. The whole area floods with ankle- to waist-deep water in the rainy season, but if you don't mind getting your feet wet, some mesmerizing photographs are just waiting to be taken.
Local fortune tellers have made the road near Sai Ngam their preferred place of business, and one-of-a-kind "black magic" souvenirs like handmade voodoo dolls can be purchased here. A few restaurants sell cold drinks and the usual som tam (papaya salad) with grilled chicken. After poking around the quirky vendor stalls along the road, you might head to the south bank of the Moon River to view the grove in its entirety.